Chapelwood Complete Dining Station with Feeders Review 2017201 – Bird Feeding Station
 
Do you really want to feel rewarded for your bird feeding? Do you want to bring in as many different types of birds as possible? Then this is the bird feeding station you've been looking for! The ChapelWood Complete Dining Station is the food mecca of the bird feeding stations. This one bird feeding station gives you everything you need to feed all types of bird right in your back garden. Featuring the large and very durable mid pole made from high quality steel that then supports the four-way hanging head. A great feature is that this hanging head can also be fitted to any other ChapelWood Hanging Feeders!
It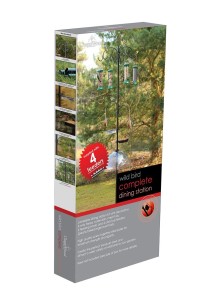 comes with a removable water dish, a mesh seed tray and four click top feeders, one for each of the major food types. Allowing you to quickly fill them up straight from the top efficiently and as quickly as possible so you can go straight to the binoculars ready to see what birds are out there!
There are more great bonuses with this bird feeding station too. Such as providing additional feeding hooks to attach another handing feeder to your dining station pole or even a nice and tasty suet treat. The Complete Dining Station Pole can also be fitted with plenty of other ChapelWood Accessories such as a Squirrel Dome, or some more additional feeding hooks for an even larger wildlife feast.
Visually stunning, the Chapelwood Complete Dining Station really becomes a beautiful centerpiece to a garden with enhanced scrollwork detail and an ornate finial and with its great value for money this really is just one sexy bird feeding station you cant afford not to buy!
If you can afford to spend a few pounds more, id recommend the Gardman Complete Feeding Station Kit as this has more accessories included. It also comes included with four bird feeders!

 Product Specifications:
Boxed-product Weight: 3.7 Kg
Item model number: CPW1621
Summary
Reviewer
Review Date
Reviewed Item
Chapelwood Complete Dining Station with 4 Feeders
Author Rating




Chapelwood Complete Dining Station with Feeders
Pros
High Quality Steel
Lots of Additional Accessories
Great Value for Money!
Beautiful Garden Centrepiece
Potential to feeds all types of Bords
Cons
Stability Issues in High Winds
Screw Nuts Can Loosen from Wind