Gardman Complete Feeding Station Kit with 4 Feeders Review 2017

    The Gardman Complete Feeding Station Kit is a great bird feeding station if you'd like to attract wildlife to your garden. Being the superior model it is packed full of accessories and there will be plenty of ways to feed the wildlife! This allowing maximum potential for attracting the local wildlife to any garden. There are four main hook on the gardmen complete feeding station kit which you can attach the four bird feeders that come included with this product to. It also comes with an additional small feeder hook which is great for another bird feeder or a tastey bird feed ball 🙂 The squirrel proof bird feeders are a great and very popular accessories you can add to this hook! In addition there is also a large bird bath, a mesh feeding tray, a fat snax hanger (which is perfect for hanging 4 tasty suet treats on), 2 medium seed feeders, one peanut feeder and also a suet feeder. This really is one bird feeding station that has everything covered! All these accessories on the Gardman Complete Feeding Station Kit are a locked in place via locking nuts which can be simply screwed tight and attached to an extra heavy duty 25.5mm metal pole with a beautiful decorative finialand piece on top and a spiked end to stick firmly into the ground which one firmly installed will be very sturdy in any weather conditions.
The Gard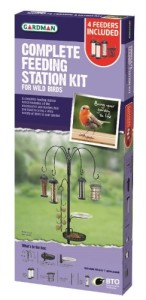 man Complete Feeding Station Kit was in fact so good that it has been an approved product by the British Trust for Ornithology and Birdcare Standards Association. This is a perfect bird feeding station for the bird avid watcher also and is one of my personal favourite bird feeding stations on the market! This really is a great purchase for the first time bird wildlife enthusiast. If you're looking for the best and are really looking to purchase the grandest of all the bird feeding stations along with being the best quality I would recommend the Tom Chambers Grand Bird Station.

Product Specifications:
Item Weight: 2.2 Kg
Boxed-product Weight: 5 Kg
Item model number: A01343
Once assembled Feeding station is 226cm high and approximately 58cm wide.
Summary
Reviewer
Review Date
Reviewed Item
Gardman Complete Feeding Station Kit with 4 Feeders
Author Rating




Gardman Complete Feeding Station Kit with 4 Feeders