Reporting Rare British Birds You Have Spotted 2017
British Birds have been known to have strange flight patterns that at times differ from their usual path. While there may be one bird you're so used seeing often, that very same bird can disappear for months, years, or sometimes longer with no real reason or explanation. In Britain over the last number of decades, there seems to be a large collection of various birds that at one point were very common, and now after extensive amount of time being gone, are finally making their way back.
Whenever such a sitting occurs, there is a website in which a person can report the bird that was seen along with the location. To prevent inaccurate sightings, the site owners came up with a method that would allow them to describe the bird, provide a picture and report the location to make sure that said rare bird indeed was sighted and can be documented.
A Great Example of this site would be the British Bird Rarities Committee where you can Submit any sightings of rare birds with further information on the siting to help further the research on Rare British Birds in the British Countryside. You can Submit a sighting at the link here: http://www.bbrc.org.uk/submit-a-sighting
I would advise anyone who is looking to capture sightings of Rare British Birds to set up a Bird Feeding Station in their Garden. Not only does this improve your Chances of seeing Birds but it also helps with their conservation. You can read a popular article of mine on choosing the Best Bird Feeding Station for your Garden in 2017 Here 🙂
What information should be provided too specifically and accurately report sighting?
Things you should consider when spotting a sighting should be:
The over-all appearance of the bird?
What are the colors of the birds?
When you found the bird what activity was it engaged in?
What makes you think the bird you captured was a rare bird instead of an everyday bird?
Other such information that someone might include to help identify a species are pictures of the bird as well as a recording of the sound the bird made.
A few good examples of Rare British Birds that have been added to the site as rarely ever being seen are the Egyptian Goose, Spotted Crake, and the Short-eared owl and we will go into some further information below. Keep your eyes peeled and let us know in the comments if you've seen one! 🙂
Egyptian Goose:
The Egyptian Goose has not been seen in quite some time. Due to the cold weather and climate changes that Britain experiences, it's made it harder for this bird to survive. As a result the bird has since migrated and undergone mass mating in attempts to repopulate the area. Part of the cause behind this bird being unable to survive and dying off is the fact that they were used to mating during other times of the year and were forced to change their patterns which made it also extremely difficult for their young to survive.
Spotted Crake:
The Spotted Crake is a very timid British bird that doesn't prefer to be around others. Perhaps due to its size, it prefers to hide in the marsh and lowlands where it can easily blend in with its surroundings. Due to their timid behavior and their ability to blend with their surroundings it's extremely rare to see them.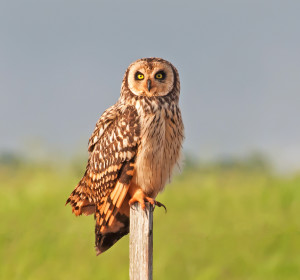 The short-eared owl is an exquisite British bird that unfortunately, is rarely seen anymore. Unlike most owls, they are primarily active during the daylight hours usually around the early morning. With issues finding enough food the owls tend to migrate to other areas. While no survey yet can definitely define the reason behind scarcity, some of it is known to be because they're forced to migrate elsewhere for food.
Summary
Article Name
How To: Reporting Rare British Birds You Have Spotted 2017
Description
How To: Reporting Rare British Birds You Have Spotted 2017 including some Great Examples of Rare British Birds to look out for!
Author